Conscious Conception
Conscious Conception
Preparation for pregnancy, birth and beyond
Presented by Leah Patara
Wednesday 1 May, 7-9pm
The Beatt, 24 Beatty Avenue Armadale VIC 3143
Tickets: $27
Nourish Melbourne Members: $20 (click here when logged in to view your redemption code)
Part of the proceeds from this evening will be donated to Birthing Kit Foundation Australia.
---
"Consider that humanity has to evolve somehow. When we see our fertility as a contribution to humanity, we see our larger place in things. Those who are called to bring your consciousness and vibration (= your LIGHT) to a level that will assist the planet at this time, you are the hope for future generations who need your strong, resilient "warrior DNA". You are breaking chains of lineages of abuses, addictions, codependency, etc that humanity desperately needs to collectively heal. As you raise your light, the whole planet rises. Humanity evolves." - What is Conscious Conception? Via elisabethmanning.com
Join Birth Doula Leah Patara, for an intimate evening where together we'll explore the subtler layers of what it means to prepare for woman's most sacred rites of passage (pregnancy and birth), to know your birth rights, and to know how you can be best supported in an empowered conception, pregnancy, birth and beyond.
On the evening Leah will explore with you:
> Rites of passage in womanhood
> Conscious Conception
> Birthing our babies the way we make babies
> How birth imprints your life
> The role of a Doula
Who might be interested in attending?
> Any woman who plans to start a family - whether immediately, or in the future
> All Mums to be, at any stage of pregnancy - including first time Mums and Mums who've experienced birth in the past
> Women trying to conceive - naturally, through IVF, or via a donor
> Anyone in the field of birth and babies and/or who are within the support network of women trying to conceive or already pregnant - holistic health practitioners, midwives, nursing and midwifery students
> Anyone with a keen interest in this topic!
Come and get comfy with a cup of tea, some tasty treats and help support Birthing Kit Foundation Australia.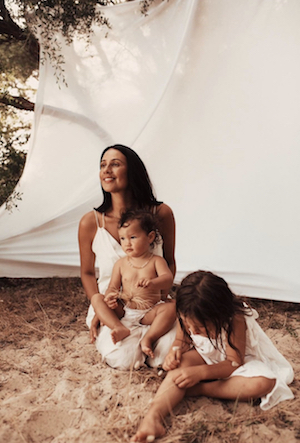 About Leah
Leah Patara is a devoted wife and mother to three children, passionate about empowering women in their rite of passage into motherhood.
She is a birth doula and conscious conception meditation teacher and doesn't take the role of motherhood lightly, claiming that your birth and birthing experience imprint on mother and baby and set you both up for life.
Her direct Maori lineage to the east coast of New Zealand is known for its strong women, from which Leah draws inspiration for her work.
She practices anthroposophy daily in her conscious parenting and is huge believer in self care rituals and healing of the feminine goddess.